Yesterday was one of those warm sunny days that Londoner's dream of all winter long only to start whinging about how hot it is after 5 minutes in the sun. A day like yesterday is a day not to be wasted. It is a day that should be spent out and about. Not at home, not at Tesco and not at The British Museum (which, if you ask me is one of the best places to be when as the Brit's charmingly say 'it's pissing'.)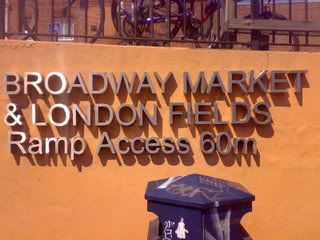 So yesterday was spent at Broadway Market in Bethnal Green. Compared to sprawling, magic mushroom infested Camden Lock and posh Notting Hill, Broadway Market is small and sweet. Situated on a sliver of a road off Regent's Canal the market mainly hawks fresh produce, artisan food (any food that does not come out of a microwaveable plastic dish is now artisan), vintage clothes, eco-friendly skincare products and a smattering of chic, independent stores.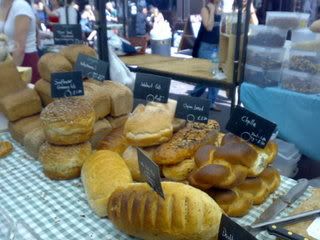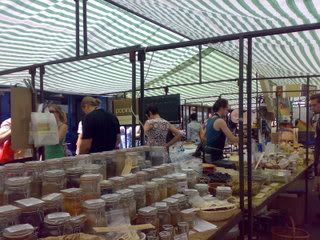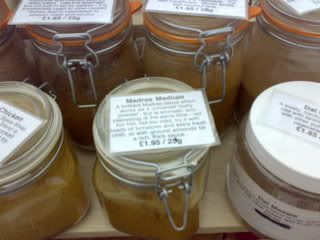 The street was packed with people weaving in and out of the stalls helping themselves to free olive & cheese samples, buying their fruit and veg for the week and trying out vintage sunglasses. This man was doing brisk business: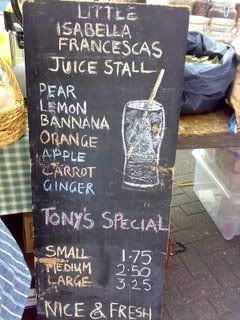 Women were trying out lovely long maxi dresses over what they were wearing, kids were running about petting other people's dogs, pale skinned girls in barely there dresses sat on the curb sunning themselves, the fragrance of ylang-ylang from an incense stall ('Guaranteed to neutralise negative karma waves') mixed with the familiar smell of oily samosas from the 'Gujurati Rasoi' stand. It felt like a big street party.
What I love about market stalls is how chatty and friendly the owners are. Sure, they have to be if they want to make money but it's still nice to be chatted up by a good looking man of a certain age while you try on a pair of leather sandals (£15 and very comfortable). While some of the stalls are rather focussed on what they sell, others are an eclectic mish mash - like the woman selling everything from vintage buttons and trim, handmade bags, old toy cars (at 40p a piece)and (my favourite) stacks and stacks of old Ladybird books. She sat their knitting away quite happy for kids to come and bang those cars at her feet while their parent's looked at old military style brass buttons.
There are some great indi shops here too. Black Truffle has beautiful shoes and bags while Art Vinyl MixArt&Music currently has an exhibition of record sleeves on. With it's worn wooden floors and threadbare killim rug The Broadway Bookshop seemed to be a (much) smaller version of Daunt's on Marylebone where the books are largely categorised by country. So whether you're looking for a cookbook a travel guide or a good old yarn about Peru it's all there under one section.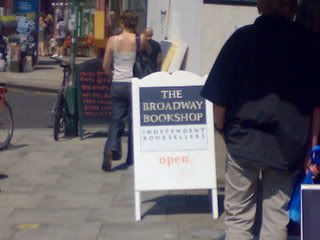 What I loved about Broadway Market was the sense of community. Sure I didn't know anyone else there and know one else knew me, but everyone was smiling, saying hello and chatting with one another. People weren't afraid of strangers smiling at their children. I'd like to think the market had something to do with that. Or maybe it was just the weather.