My weekends are precious to me. They're usually spent slowly cooking lunch, tidying, eating, grocery shopping and then reading the newspaper in bed. All activities are punctuated with long and short naps. Every other week, I stir out of my routine and explore the city I live in. Weekend markets, museums, the theatre, walks in Hyde Park when the weather is nice, (like today – clear skies, sunshine that really warms your face and a soft breeze) nipping in to Patisserie Valerie for coffee and profiteroles.
This weekend shouldn't have been very different, except the better half is in Calcutta (Kolkata?) on work. So I looked forward to doing things no amount of sambhar sadam would cajole him in to agreeing to. (The Geffreye Museum/Alvar Aalto at the Barbican/Brick Lane)As I sat mulling over these options yesterday morning, I received a call from a good friend inviting me to join her and her husband at an exhibition in Hammersmith. I was promised Italian food, wine, design, clothes – in short everything Italian on a Murano platter.
I was immediately reminded of the 'ejibitions' I used to visit with my mother as a child. Invariably held at Valluvar Kotam or Congress Grounds in Madras they were filled with people selling and buying the most wonderfully useless things. Paper Mache letter racks, key fobs with little sandalwood horses attached to them (that lost all fragrance the moment they were paid for ), pens drowned in
chamki
and glass bangle shards. I would stare at these things with fascination and greed, wanting them all. My eyes would silently plead with my mother as I pointed out mirror work skirts and kalamkari patchwork satchels, for I knew better than to ask aloud. I would always return home, hands laden with brown packages bulging with finds that would be admired and used for a week before they were relegated to a corner (and the next exhibition bounty arrived at home). It had been years since I'd experienced that wonderful feeling (last weeks shoes were a pleasure of an entirely different kind) and so I agreed to my friend's suggestion, filing away my plans for another weekend.
We arrived at the venue after what seemed to be a never ending train journey, thanks to staff strikes on the Underground and the capricious nature of the District Line. As I waited in the serpentine cash machine queue, my friend went up to the entrance and came back with the happy news that it would cost us £16 to get inside. Perhaps my face registered a look which was a cross between 'I've just ate lemons/Are you insane?' (I was under the impression that entry was free) for I was quickly told the amount included food vouchers. Seeing that we were already there and comforted at the thought of espresso and ciabatta, I paid for the ticket. Once my card was swiped, I was informed that food and beverages were not covered by my lowly, peasant ticket. Smile plastered on my face (to prevent the feral scream in my throat from escaping ) I entered the tiny corner of Italy in Kensington Olympia, imaginatively titled La Dolce Vita.
It was disappointing to say the least. As I drifted away from the four stalls hawking leather bags and coats (which suspiciously looked like they'd come from Petticoat Lane Market) and the odd jewellery stand (£15,000 ring anyone? Didn't think so) I realised that that was all the Italian style I was getting. After admiring some particularly lovely red vintage Alfa Romeo's (in my opinion the best thing there) I bumped in to a young lady who asked me if I was interested in purchasing a property in Tuscany. 'We have some lovely vineyards and castles if you're interested' she added. I politely said no and walked away, secretly smug that someone thought I looked rich enough to own a castle. Until I realised she was asking everyone who walked by the very same question. Hmph. It was then that I realised that the main purpose of the exhibition was to get rich, middle class Brits to buy holiday homes in Tuscany and Abruzzo. Or get married there. Or take a holiday there. Cheap skates like me who couldn't afford a £3 million palazzo had to make do with the free olives.
Which was the only thing left to do really. Eat I mean. So we walked from food stall to food stall sampling olive oil, pesto and as many thimble sized shots of wine as legally possible. By the time my mini-gastronomic tour was done, I was exhausted and a little tipsy, so we sat down for a live cooking demonstration by Aldo Zilli. You'd thing they'd have opted for someone a little hotter, but we had to make do with the pint sized, stocky, bald chef. After turning up half and hour late he proceeded to shout at people in the audience who were talking like a stern smock clad school teacher. As a vegetarian, I can't tell you how useful it was to watch the man make meat balls and shrimp sauce. I'll be sure to serve it up the next time I invite the Mami's around for
vethalai paaku
.
I was relieved that it was time to go home, but sad too. Sad that I hadn't found one thing I wanted to buy. It was shameful.
Me
at an exhibition and returning home empty-handed. As we walked towards the entrance a sign caught my eye and I made a beeline for a stall selling blood oranges.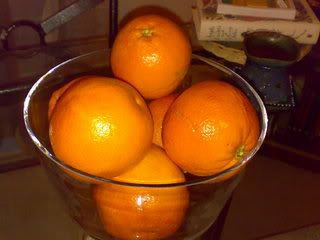 Well settled in to my seat on the train journey home, I looked back on the day. As far as exhibitions go, it wasn't a patch on my old haunts at the Congress Grounds. Though the hours had passed pleasantly enough, I didn't once felt the excitement and buzz I used to feel. I hugged my purchase for comfort and realised that perhaps those feelings were part of a time that had passed on. Never to return.